Three people shot after Falls Church concert | News
FALLS CHURCH, Va. (WUSA9) --  Falls Church Police are searching for the person or persons responsible for shooting three people outside the State Theatre early Monday morning as a concert was ending. Go-Go band Northeast Groovers and rapper Scarface had been playing an event billed as the Love Peace and Unity concert.
Shootings are rare in the City of Falls Church. This one could have been deadly because the concert had just ended and there were about a hundred people outside when the shooting started.  
Severals bullets hit an office building across the street from the State Theatre. One bullet came through the window of government contractor Polu Kai Services.
Employee Charlotte Eversburg said, "It is crazy to wake up to bullet holes in your building."
Polu Kai owner Sean Jensen, pointing to the hole in the window, showed its path. "Come in from across the way here.  Of course, nobody was here this morning, thankfully. Then it went through that nobody was here this morning, thankfully. Then it went through that door."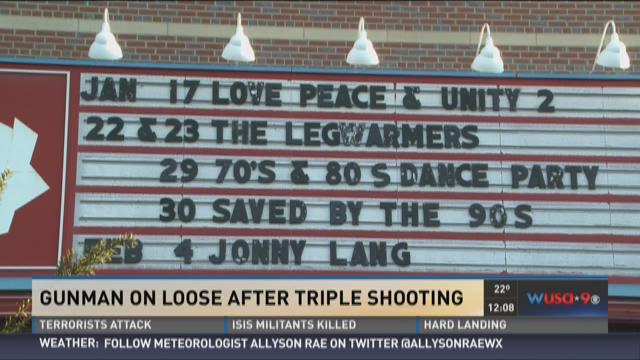 Police say the gun or guns were fired from the street on Park Place, adjacent to the club. Falls Church City police officers were actually inside the club at the time responding to a report of a fight, which may have spilled outside. 
"They went to go inside, they heard 15-20 shots outside as people were exiting," said Police Chief Mary Gavin.  She said the officers did not see the suspect or suspects, who fled. Three people outside were hit, all of whom have minor injuries. 
"We are fortunate nobody was killed. I understand, from what my officers told me, at least 100 people were out on the street during this time period," Chief Gavin said. 
"A little scared...you don't ever want anything like this happening so  close to home, " said Rebecca Tax, who co-owns the restaurant Claire and Don's Beach Shack next door to the State Theatre. 
Shootings are uncommon at the State Theatre, which is well known for hosting 80s cover band The Legwarmers.  
At first, police thought there was only one victim. He suffered a gunshot wound to his shoulder and was taken to Inova Fairfax Hospital. 
Later, police in Frederick, Md. called their Falls Church counterparts to tell them that two other victims had driven to a hospital in Frederick County for gunshot wounds from this shooting. All three victims have minor injuries and are expected to be OK.    
Falls Church City Police are asking for the public's assistance.  If anyone has information about the fight at the State Theatre or the shooting afterward, please call them at 703 241-5050.   
Like this story? Like us on Facebook